Hello,
We're really sorry to inform you that YFHS 2020 will not be going ahead in the usual way this year due to Covid-19. We have had to take this really difficult decision to cancel the residential, as there wasn't a feasible way that we could run the week and maintain social distancing. This is a first for YFHS and we know you will be sad to hear this. We have all been looking forward to a fantastic week together, especially in these unusual times. However...
Virtual Holiday School
We are busy making plans for a virtual alternative, which will help us to build a community by taking part in online sessions and social activities together. This will run from Sunday 16th to Wednesday 19th August (exact timetable tbc). There will be no cost for attending and we will send out more information in the coming weeks, along with a new application form.
If you have any suggestions or ideas for things you would like to see at the Virtual Holiday School (VHS) it would be great to hear them. We know it won't be the same but hope it will give us all a chance to create memories together and beam a bit of the Holiday School magic into our homes.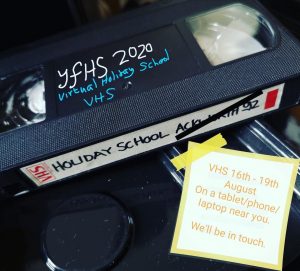 Refunds
All deposits that have already been paid will be refunded, or if you would prefer this can be carried forward to YFHS 2021. The Treasurer will be in touch with you about arrangements for this.
YFHS 2021
Everyone who has been invited to YFHS 2020 will still be invited to YFHS 2021. We don't want anyone to miss out on their final year of Holiday School, so in 2021 there will be 3 years of Student Helpers.