Hello,
We have put together our plans for Virtual Holiday School and are happy to say that applications are now OPEN! The zoom event will take place from the evening of Sunday 16th to Wednesday 19th August.
Please the
VHS Information and Code of Conduct
 before applying which includes the timetable and what's expected of participants and parents/guardians. We are really excited to be able to create Holiday School in the virtual world and look forward to seeing you on a zoom call soon for a whole load of games, discussions, dances, nest groups and activities!
If this is going to be your first time at holiday school we really look forward to meeting you! We will have a short session before the main VHS starts for everyone who's not been before to introduce ourselves.
If you have any questions, suggestions or concerns, please let us know.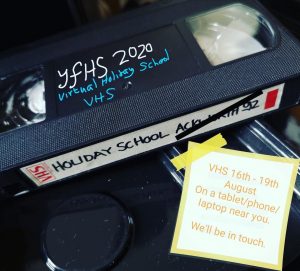 YFHS 2021
Everyone who has been invited to the non virtual  YFHS 2020 will still be invited to YFHS 2021. We don't want anyone to miss out on their final year of Holiday School, so in 2021 there will be 3 years of Student Helpers.